The Great Quintessential Ales Competition
Brought to you by the Belfast Brewers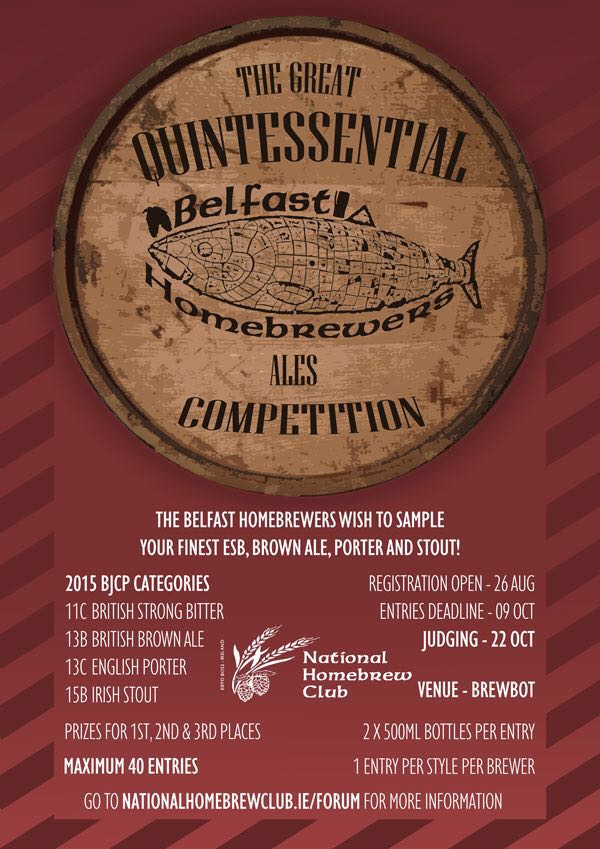 Categories
BJCP 2015 Style Guidelines
11C. British Strong Bitter, Page 20
13B. British Brown Ale, Page 23
13C. English Porter, Page 24
15B. Irish Stout, Page 27
There will be prizes for 1st, 2nd and 3rd placed winners.
Geterbrewed are kindly offering to sponsor the competitions BOS 1st prize and have offered to brew the winning recipe on their new Brewiks system and keg it for sale.
They will be offering a key keg home for the winner and are also looking into the possibility that the rest can be put out for sale with interested retailers.*
* TBC depending on interested parties. There also may be some sensible caveats, should there be any seriously hard to get ingredients used, etc.
Maximum 40 entries.
Dates
26th August – Registration open
9th October – Entries to drop points deadline
22nd October – Judging
Venue
Brewbot
Ormeau Road, Belfast.
£5/€5 per entry.
2 x 500ml brown bottles per entry.
1 entry per style per brewer.
If anyone is up for volunteering to judge or steward please PM.