The Great Irish Kveik Off!
With a nod to our ancestors, Garden County Brewers in association Ireland's only commercial yeast producer, The Wicklow Hops Company are proud to present:
Ireland's First Single Yeast Home Brew Competition is here!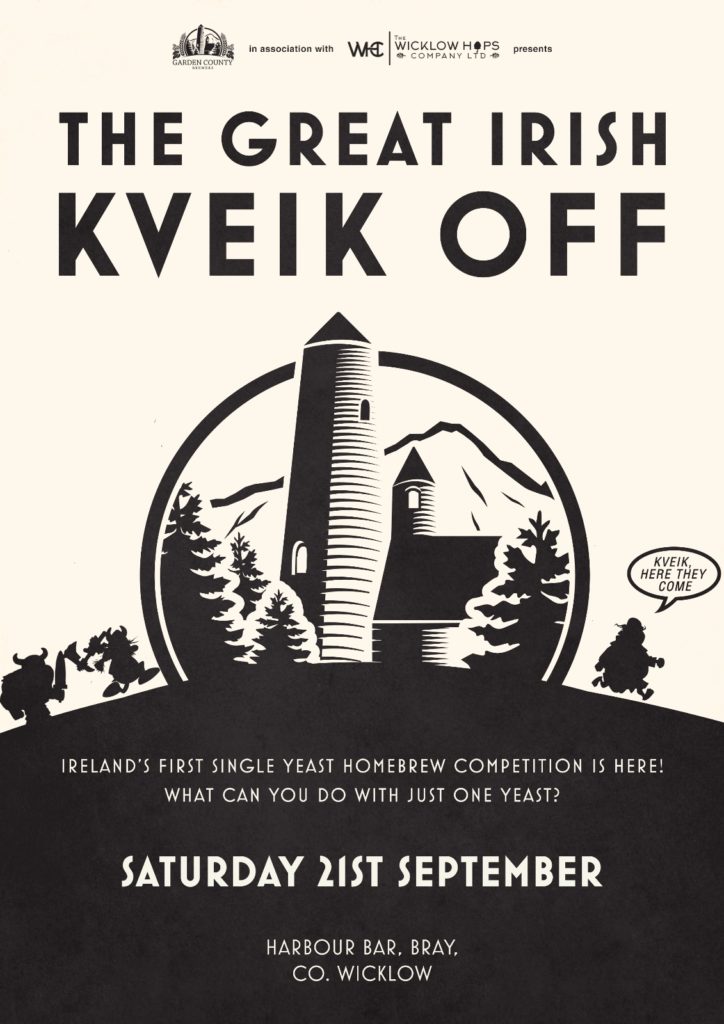 What can you do with just one yeast?
So get off your Arset and let yourself run riot! Plunder your recipes and bring the judges to Valhalla with your entry.
This competition is limited to one yeast but the styles you can brew are unlimited.
This competition will be BJCP registered and is open to any style but the yeast must be fitting with your chosen style and compliment it.
Overall balance is the key to a successful entry. The entry should be a harmonious marriage of the beer and the yeast, with neither overpowering the other. The yeast should complement and enhance the underlying beer, and the resulting product should be pleasant to drink. This is a BJCP competition, the existing style guidelines are there for your chosen style of beer. If the beer is out of balance it won't score as well, like any competition. Creativity and showcasing the yeast will win you added points.
€7 Entry fee includes a direct pitchable liquid yeast strain of The Wicklow Hops Company unreleased Arset yeast, which will be posted to you, upon receiving your entry fee. Entry is via paypal only.
Entries will be professionally analysed to make sure the supplied yeast is actually used in the entry.
So get off your Arset, 'Kviekly' and get your creative homebrew juices flowing and brew a beer that would match with this yeast.
A little about the yeast:
The overall flavour profile is similar to Hornindal, but this kveik yeast has a broad temperature range but its recommended temperature range is 15-38 degrees. It can tolerate acidic wort quite well.
Stouts, Ales, Sours have been brewed with it, it really is a versatile yeast.
It can be used at lower temps to provide a clean taste with a slightly fruity finish.
And at higher temps for in your face outrageous New England fruitness
It could work well in a kettle sour, maybe with some dry hopping.
Attenuation : 70-80%
Flocculation : High
Alcohol Tolerance: Very High
---
Drop-off: Through your club rep. Entries in by 7th September 2019
Judging: Saturday 21st September 2019
The Harbour Bar, Bray, Co. Wicklow
Entry: €7, max 3 per brewer. Yeast will be posted out.
Entry Form Here[/su_button}
Prizes:
1st – Gold Medal
Winner gets to name the Strain of Arset Yeast for commercial release.
Dinner Voucher for €100 in a restaurant of your choosing.
Professional Beer Analysis by The Wicklow Hops Company
2nd – Silver Medal
Professional Beer Analysis by The Wicklow Hops Company
€75 Circle K Voucher
3rd – Bronze Medal
Professional Beer Analysis by The Wicklow Hops Company
€25 Home Brew Company Voucher
Spot Prize
To keep it light-hearted, a Bag o' Cans for the best named entry.
Name to be chosen by The Harbour Bar on the day of the competition to keep it impartial.