BEFORE READING
This guide assumes that you are already familiar with kit brewing.
If not, make sure to check out the Beginners' Guide and maybe get a few brews down to get a taste for standard kits before changing them.
You might like them the way they are, and if you don't know what the original tastes like you won't know what your hack contributed to the kit.
A lot of the stuff in here is just based on my own personal prefenence and experience, some other stuff is based on popular/best practice. Do whatever's convenient and suits your taste.
In this guide I recommend Coopers' kits just because they're the kits I most like to hack. They're easy to get and are very consitant.
WHAT IS KIT HACKING?
Kits are carefully put together to achieve a specific and reliable result.
The manufacturer designs the recipe, selects the right grains and mashes them, selects the right hops and does the boils, then dehydrates it all into the familiar goop. Then they throw in a pack of yeast, usually generic Ale yeast to make brewing as simple as possible.
Usually you just need to dilute it, add more sugar, pitch the yeast, then set and forget for a week or two.
Once you deviate from the recipe, you're Kit Hacking/Modding.
WHY KIT HACK?
Don't you get tired of the same result from your favorite kit? Is it mising a certain 'something' that you tasted in a craft beer you tasted at some stage?
Kit Hacking will allow you to tailor the end result exactly as you want it.
WHAT CAN I CHANGE?
The bitterness, flavour, aroma, colour, head, strength.. Whatever you want to change!
HOW?
By adding speciality grains, fermentables, hops, different yeast, etc
IS IT DIFFICULT?
Nope!
DO I NEED MORE EQUIPMENT?
Who doesn't like buying more equipment? Boys-Toys FTW!
If you really don't want to buy more stuff, you can still kit hack with stuff from around your kitchen.
One investment I would recommend though is a couple of muslin bags. They're only about 60cent each.
Otherwise, some simple equipment would be a large pot (5L plus) and a seive or collander.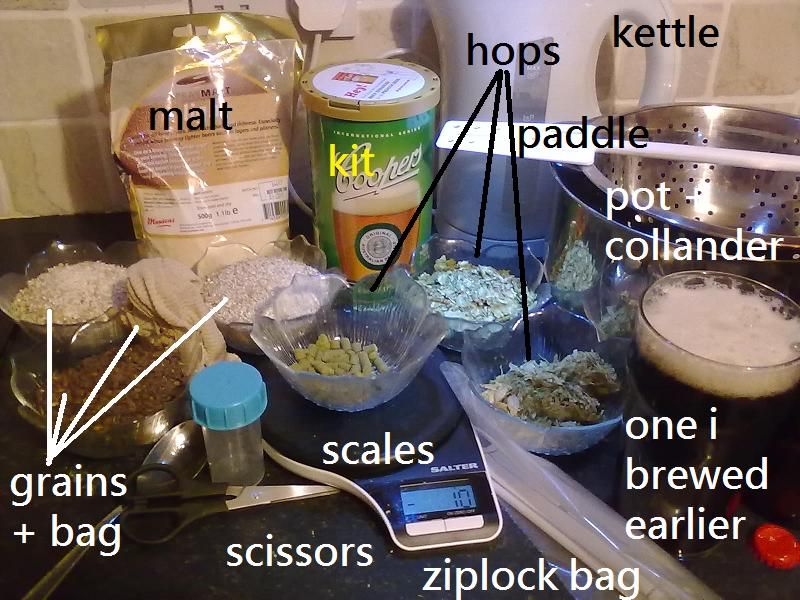 WHAT DO THE DIFFERENT INGREDIENTS DO?
Grains : Diffferent grains will make the beer fresher, with better head retention, lovely colours.
Hops: Hops will add bitterness, flavor and aroma to your beer.
Yeast: The style of the beer will usually be determined by the style of yeast. Also add flavor from phenols and esters.
Sugars: Add more alcohol, and more flavors, affect body,  depending on the type of sugar.
Temperature: Different yeasts will give behave differently at different temperatures.
DO I NEED TO CHANGE ALL THE THINGS?
No, just change the ones you want.
RIGHT… WHERE DO I START?
A good place to start is with the yeast.
For example, the Coopers wheatbeer kit comes with an ale yeast, so it makes a wheat ale. Let's be honest, although it is really nice and refreshing, it's pretty bland…
kithack1, yeast
So, to change this Wheat Ale into a Weissbier (eg Erdinger), we just need to change the yeast.
I like WB-06, it's cheap and chearful. But you can get a variety of other yeasts, including some very specific liquid strains from manufacturers like White Labs.
kithack2, yeast
Another easy hack with yeast is using a lager yeast in a stout kit.
Just remember, that you need to ferment at the temperature ranges for the yeast you choose.
OK, THAT WAS EASY! WHAT NEXT? HOPS?
Adding hops is a great way to make your beer taste and smell better.
There are many ways to add hops to your brew, like steeping, dryhopping, boiling.
Here's a sweet page to show different hops for different styles: http://byo.com/resources/hops
And a wikipedia page of varieties: http://en.wikipedia.org/wiki/List_of_hop_varieties
kithack3, hop steep
Steeping hops is a simple, cheap and efective hack. If you can make a cup of tea, you can step hops.
Grab a Coopers' Australian Pale Ale kit, a pack of Cascade and a pack of Amarillo.
Before mixing everything up, boil a liter of water and put it in a saucepan.
Add 25grams of Cascade and 25grams of Amarillo, and let it sit and brew like a cup of tea.
Half an hour steeping should be fine, and strain/seive the liquid into your wort.
They're American hops, so if you want to you can use an American yeast like US-05 too.
kithack4, Dryhop
Dryhopping adds aroma to your beer.
Grab a Coopers' English Bitter Kit, and to match it lets choose an english hop. Fuggles goes really well.
Make your kit as usual, and let it ferment away.
Once the bulk of fermentation is over and the krausen thins out, put 30grams of fuggles into a muslin bag and throw it in.
It will float, so you can weigh the bag down with some sterile marbles or something similar if you want.
The bag will avoid a mess of hop matter and won't get in the way at bottling time.
If you normally transfer your beer to a secondary FV, just bang it in then.
Give it a weekor two to get all the delicate aromas into your beer, then bottle as normal.
kithack5, hop boil
Boiling your hops for different amounts of time will give different results.
About 45-60 minutes for bitterness, 20ish for flavor, 5ish for aroma.
Here's a handy graph I stole off google at some stage:
Grab yourself a Cooper's Irish Stout kit, a pack of fuggles and a pack of East Kent Goldings.
This is prety similar to the steep, but you'll keep the water on a light boil for the whole time.
The smallest volume of water that I comfortalby do this is 3liters (in a 5L pot), with the lid on if i'm doing long boils.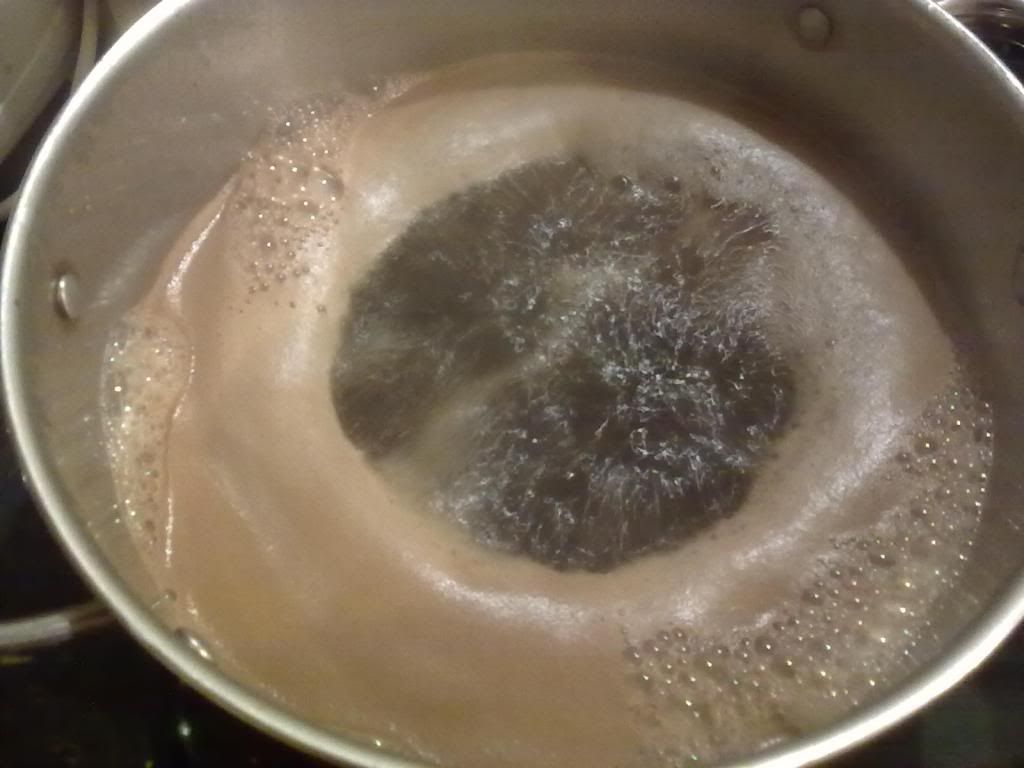 Bring the 3L water to a boil and add 30grams East kent goldings to boil for 45 minutes.
With 15 minutes left, add 15 grams of Fuggles.
With 10 minutes left, add another 10 grams of Fuggles.
The last minute is a good time to add your sugar/extract to disolve it.
Strain/seive the liquid into your FV with your topup water.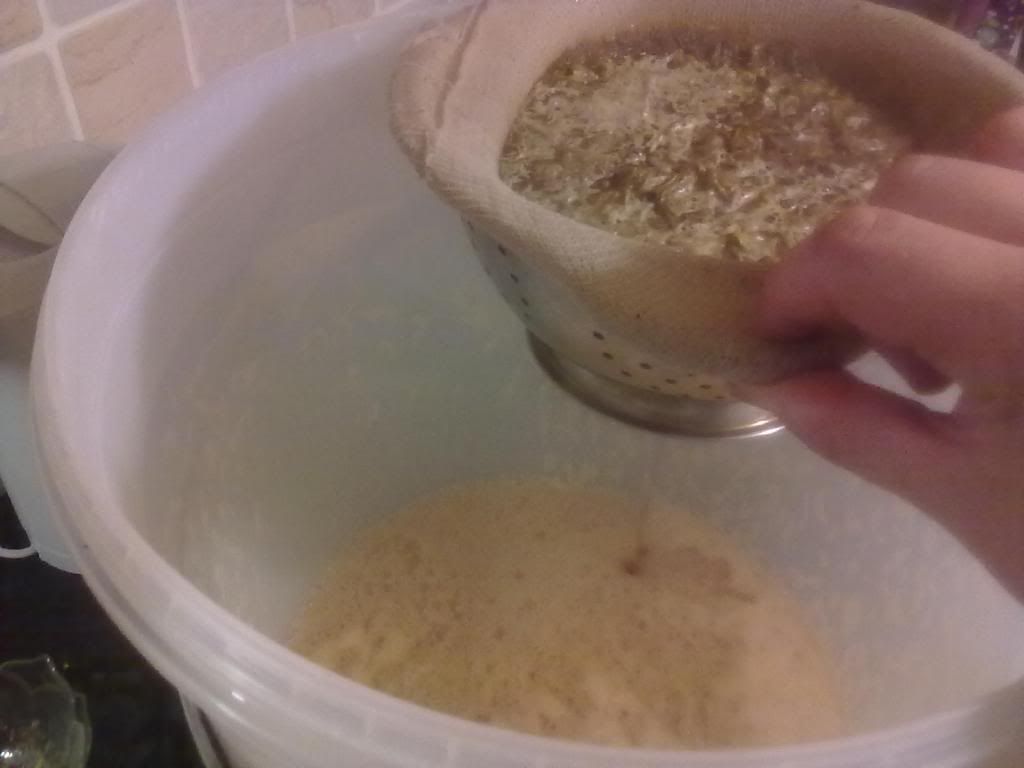 RIGHT.. AND WHAT ABOUT GRAINS?
Different grains will do different thing. For example Carapils or Crystal will add freshness and help with head retention, biscuit grain will give a biscuity taste, chocolate will give a chocolate roastiness and darker color, etc.
The handy thing about these 3 grains, and the reason I mention them specifically, is because they (along with any other grains that no longer contain enzymes) just need to be steeped and do not need to be mashed. They can even be soaked overnight in cold water. You just want get their goodness into the water.
If you get whole grains, you'll need to crush them. I put them into a ziplock bag and smash the shit out of them with a beer bottle (because I have no rolling pin).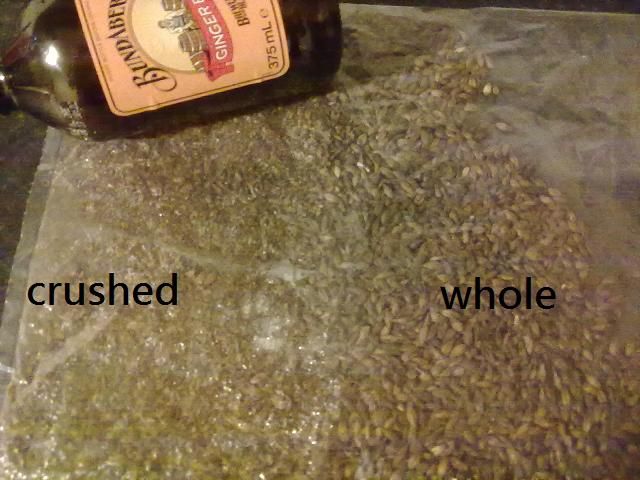 Once your steep is done remove the grains and let the juice drip out (don't squeeze the juice out as it can bring unwanted bitternes), bring the steep to the boil to sterilize it. You can start hop boils in it if you want and your house will smell amazing, although SWMBO might not agre.
kithack6, caprapils
I add about 200g carapils to almost every brew to help with head retention. It's quite light in color and flavor.
You can soak it overnight in about 2Liters of water if you want, but I generally steep it for 30 minutes in water at about 65C.
It's easiest if you put it into a muslin bag and dunk it every now and then, like a teabag.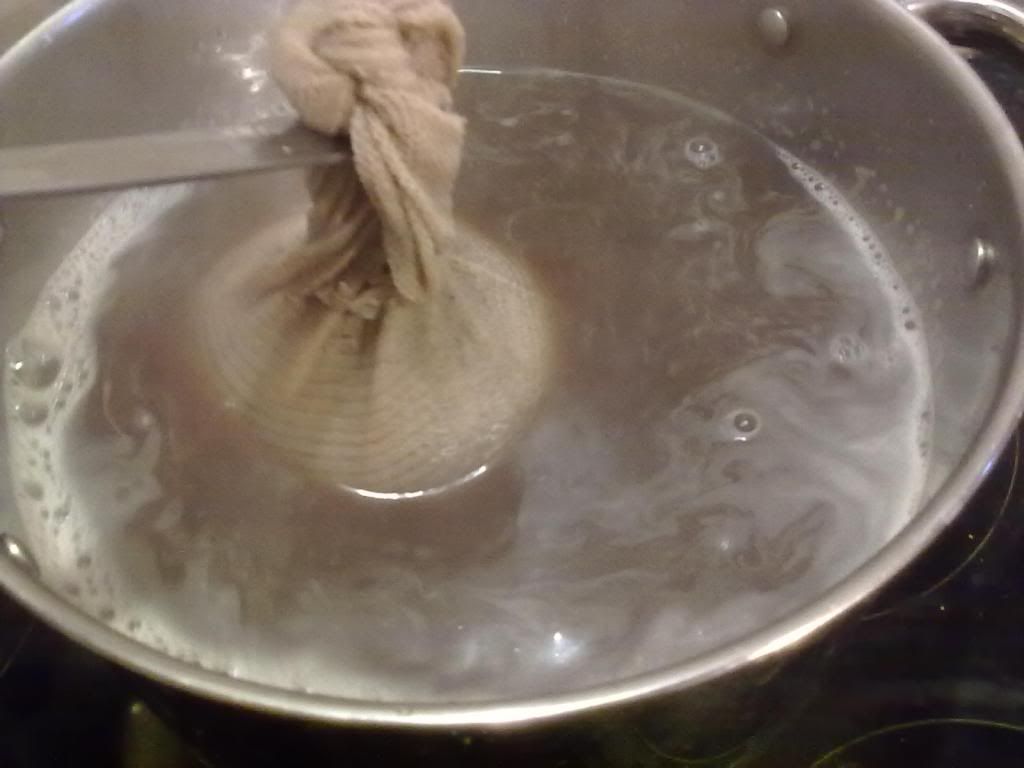 kithack7, chocolate grain
I love chocolate grain, but it's not to everyone's liking. GO into tesco and grab a double chocolate stout to see if you like it, and if you do, add about 150g to a stout, IPA or English Bitter. Just remember that it will darken up your beer too.
Another bonus is that you can add it to your coffee beans in the morning.. yum.
WHAT STUFF CAN I USE FROM THE KITCHEN
If there's a particular flavor that you like, try it out.
Treacle, molasses, coriander, orange, pepper, ginger, whatever you like.
The world is your oyster (you can even add oysters). Go mad!
kithack7, Treacle
Some dirty savages like the taste of treacle and add it with gusto to their stout kits.
If you're a dirty savage you might like to add 500g dark DME, 300g dextrose and 300g treacle to an Irish Stout kit.
kithack8, Toucan (two cans)
Some folks will use 2 kit cans to double the hops and grains, or to get something from one kit into another.
Just grab 2 kits that you think would go well together and brew them up in one batch.
The Irish Stout/Australian Pale Ale Toucan is supposed to be quite good.
HOW DO I CALCULATE THE KIT'S BITTERNESS BEFORE HACKING?
Many kits will have a description of the contents' colour and bitterness.
For example, here's the description of Coopers' Australian Pale Ale:
Weight – 1.7kg, Colour – 90EBC, Bitterness – 340IBU
It's important to remember that this is the colour and bitterness of the goop in the can, not the resulting beer. (a 340IBU beer would put skin on your teeth)
To get the bitterness of the brew you need to use the following maths:
Kit IBU x volume in Liters / Brew volume = Brewed IBU
So for the APA kit to 23 liters, we get:
(340X1.7)/23=25 IBU before fermentation
The same calculation can be used for the EBC (darkness)
However, Coopers say that between 10 and 30 percent of the bitterness may be lost in fermentation, which corresponds with the IBU calculated on this recipe designer (18.5 IBU).
---
WHAT SOFTWARE IS OUT THERE TO HELP ME?
Here are some of the bits and pieces that I use.
Kit & Extract Beer Designer – http://aussiehomebrewer.com/topic/29655-kit-and-extract-beer-spreadsheet/page-20 – Excel Based Spreadsheet with presaved Coopers' Kits
Brewmate – http://www.brewmate.net/ – Free but basic brewing tool.
BeerSmith – http://beersmith.com/ – More advanced brewing tool, not free.
Follow the thread in the forum.
Author:
LordEoin