Brewer Spotlight: Cameron Wallace, Eight Degrees Brewing Company
Welcome to an exciting special edition of NHC's "Brewer Spotlight". In addition to profiling a different NHC member every month, we will also be interviewing professional brewers and other industry figures from time to time.
Today it's Eight Degree's Cameron Wallace in the spotlight.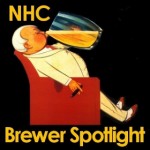 Cam and his business partner are both former home brewers who launched in 2011, establishing Eight Degrees in Mitchelstown, Cork.
Before setting up for a life of brewing Cameron trained as a chartered accountant, whilst Scott was a water engineer. A good mix of skills for a startup brewing business!
Hi Cam, youself and Scott were originally home brewers. How did you get involved in the hobby?
Scott was living in Ireland, just moved into county cork and really missed the beers he could get back home(in NZ). So he started brewing at home (in Kildorrery). I was at the time back in Oz and had a home brew shop around the corner from where I lived. Chatting to Scott, he told me how he had just done his first ever brew and it was all grain and encouraged me to give it a go also, especially as it's so easy in Melbourne to get started. I did an extract brew, a simple pale ale (Coopers I think) and it actually tasted ok. Second brew was a pilsner (stupid as it was the height of summer so trying to keep it cool during fermentation was a nightmare), the third was an all grain and the beer tasted so much better, so it went from there.
Do you ever still brew at home?
I haven't done a home brew since the last test batch of Howling Gale in March 2011. Home brewing for us now is a single brew of one of our limited release beers. Mostly we have been lucky and the beers have worked out great, but there is always the risk we get it wrong and we have to drain 1500 litres of wort – but that's what experimentation is all about.
Can you talk us through the recipe formulation process at Eight Degrees?
Trade secret, haha, only joking. It's now a collaboration effort between Scott, myself and our head brewer Mike. Actually Mike does most of the hard work now. Research is a key component, drinking the beer style we wish to create from our favourite craft breweries, a lot of research into the particular style and what we are aiming to achieve and then lastly inputting this into some brewers software might help to get an idea of correct quantities to use and balance. It's mostly an art form and from past experience and past brews we are confident enough now that we can create a drinkable beer, whether it's great of not is still a good dose of luck and crossed fingers.
Is there a particular reason you and Scott chose to do the VLB course in Berlin over others? How beneficial do you think the course was?
We just liked the idea of spending some time in Berlin. I also did a short brewing course in the UK,
Dave Porter's course which was very practical. The VLB course is fairly technical and assumes a good amount of knowledge already gleamed from home brewing. It was very useful and yes we did enjoy the extra curricular activities of Berlin too.
Looking back on the 2 years you've been operating is there anything you would do differently given the chance? 
Working with a Kiwi is a big mistake. Seriously though, we have made lots of mistakes and done some pretty stupid things and with hindsight of course we could do things better but overall the journey has been a huge learning experience and mostly great fun. The enjoyment is seeing the reality exceed our goals.
What is your favourite style of craft beer and what beers would normally be found in your fridge at home?
I do love a good hoppy IPA. I think Irish taste buds are developing very quickly, some proper hop bombs will be commonplace soon enough. We have just developed a black IPA, its fun to challenge people perspectives and I think it does give an IPA a bit of balance.
As a professional brewer can you list the most frequent mistakes or flaws they come across in commercial or homebrew beers i.e. ingredient/taste imbalance, oxidation or off flavours etc?
Our biggest challenge is consistency. Anyone can produce a kick arse beer but to do it over and over again with hops and malt quality differing slightly is the challenge.
Given the growing list of breweries in development at what point will the craft beer industry reach saturation, stop growing and force domestic brewers to either start to export a lot more or poach customers from other craft brewers?
The states have 2,500 plus craft breweries, In Australia there are around 200 breweries, in NZ with similar population as Ireland there are 60, and they are mostly soft cock wine drinkers. 
I think Ireland could accommodate 50 craft breweries easily. We currently have well less than 1.0% of the Irish beer market, if we collaborate and help each other, as a collective, we can make that 5 or 6% in the next 5 years. Why not, it happened in the states where Bud light and Coors light rule the roost.
What further actions can government take to promote the craft brewing industry?
Possibly put craft beer on the same footing as wine. After all we are the wineries of Ireland aren't we? We would love for licencing laws to be the same for indigenous craft beer as it currently is for imported wines. Oh, and it would be cool if we were allowed to sell our beers from the brewery, a bit like the cellar door experience.
Eight Degrees have recently started exporting as far as Italy. Have there been any major challenges encountered getting your products out of Ireland?
Mostly jumping through the bureaucratic hoops that is excise tax etc. The fun part is visiting northern Italy in the summer to do some promos, end up spending a day or two swimming in Lake Garda and enjoying the nightlife, it's called networking.  Yep, it's a tough life.
Eight Degrees have been helping a lot of start ups with contract brewing recently. Have you found it difficult to juggle the extra beside your own output? What advice would you have for anyone considering going down the contract brew route as a means of starting up?
Despite what it may appear, contract brewing does represent only a small fraction of our business and we generally nominate a small fermenter to contract brewing and simply book in the slots.
As well as an avenue for start up breweries to get product out there so they can focus on marketing, it has actually been great for us too, we do learn a lot from the guys, after all most of the start-ups are run by passionate and seriously great brewers, and especially from a home brewing background.
We only contract brew for people who are serious about craft beer and who are looking at it as a stepping stone to get their own brewery up and running.
Are there any plans in the pipeline for expansion to a bigger kit? 
We have just expanded the brewery again, another 5 conditioning tanks and one more unitank FV. The next step will have to be a larger unit and bigger kit, we simply can't fit any more tanks into our unit. We think when all tanks are full the unit would have more beer in it than air.
What kind of hours would you work on an average week?  Is it really as cool as homebrewers all imagine it is?
That's a strange question for anyone who is self-employed or who runs their own small business.
You are never really OFF, but because in our case its beer and owning a brewery, most people are really excited to talk to you. That's never a bad thing.
It is COOL, Yes it is, but again we are running a business and we do need to do accounts, pay bills and ask customers to occasionally pay us. We also do have to deal with more than our fair share of bureaucrats. But we do get to make a product that puts a smile on our customer's face which is so rewarding.
Obviously one of the questions you probably get asked most is, why 330ml bottles?  Have you any plans to offer larger sizes?
Ah the debate over 330ml v 500ml bottles. We have found the restaurant trade prefer the smaller bottles, off licences would prefer the 500ml. When we started we wanted to promote the idea of a 6 pack which works well with the 330ml bottles, which is the norm in Australia and New Zealand. We wanted to make it easy for someone to pick up a six pack or two on their way home from work instead of wrestling with multiple 500ml bottles in your arms. It does provide us with a USP.
One advantage of 330ml bottles is of course they are more suited to stronger ABV beers. Any plans for some Belgian styles beers, imperial stouts or double IPAs?
YES YES and YES. We just brewed a Russian imperial stout, will be released early Dec 13.
Actually we have just launched our limited edition 'Back to Black' range of beers. A little bit about the three new beers below.
Launching our limited release 'Back to Black' beer collection (all in 330ml bottles)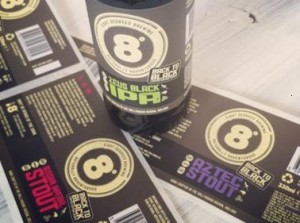 We are celebrating the dark malts with this trilogy of experimental beers designed to warm the winter evenings. Our Back to Black Limited edition series is a journey of discovery taking us on a trip through Ancient civilisations, Greek mythology and Imperial Russian courts.
For your enjoyment we have brewed a smooth silky chocolate stout spiced with chillies, vanilla and a touch of cinnamon, a heavy hitting Russian Imperial stout to warm those winter evenings, and a punchy black IPA carefully balancing the interplay of dark malts with tropical fruit hop flavours with a spicy bite.  Don't be afraid of the Dark.
Zeus Black IPA 7.0%
This beer is designed to challenge your preconceptions. It looks like a rich dark porter but tastes like a punchy IPA. This Black IPA uses Zeus hops from the Yakima valley and Ella hops from Australia.  Think pine resins, citrus and tropical fruit aroma with a spicy bite. Close your eyes and take a sip and let your taste buds take over.
Aztec Stout 5.5%
The Aztecs civilization were famous for chocolate, chilies, vanilla and human sacrifices. Ireland: famous for stout. We've combined the two.
We've introduced smoky chipotle chillies supplied by our friend Lily @mexicanshopeire, cocoa nibs, vanilla pods and a touch of cinnamon to a traditional Irish stout. A healthy amount of oatmeal provides for a smooth silky finish a touch of cinnamon perfects the brew. The result is a rich warming dark ale to savour. Salute.
Russian Imperial Stout – 9.0%
This unorthodox Russian stout is like an iron fist in a velvet glove. Dark crystal, chocolate malt and roasted barley combines with intense hop bitterness to create a burnt caramel and espresso aroma with rounded rum and raisin notes. Enjoy as an after dinner digestif.
Visit the Eight Degree's website for more information.