Brewer Spotlight: Declan Nixon, YellowBelly/Otterbank Brewing
This month in the Brewer Spolight, we're chatting to NHC member and head br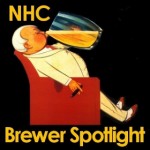 ewer of YellowBelly, Declan Nixon. A long-time brewer and friend of the NHC, Declan heads up the brewing operation at Simon Lambert's pub in Wexford town as well as running his own side brewing project, Otterbank.
In our interview,  Declan talks cellars, saison and sours!
Hi Declan, thanks for taking part! Can we start off by telling us how you got involved in brewing? What were you doing before you started brewing professionally? 
I went to Liverpool to study Civil Engineering when I was 18 and still drinking cider, about half way thgrough 1st year my good friend Jack finally convinced to try some real ale. It was a pint of Deuchars Caledonian IPA in the Philharmonic and it was the nicest pint of beer I had ever had at that point! From that day I completely started geeking out over cask beer. We bought a homebrew kit and I started working in Doctor Duncans a few weeks later. Dr D's was one of the (now closed) Cains Brewery pubs and busy pretty much every day, we served all Cains products on cask, keg, can and bottle. Initially I started just showing up at the brewery to watch how they cleaned and filled the casks, then I was showing up and annoying the staff to let me do it! That went on for a few years while I got more into actually managing pubs and restoring cask engines and lines etc. I moved to rural Derbyshire to run a Marstons pub and did the same as Liverpool, just started showing up to the brewery in Burton and helping out for free! I was still homebrewing bits and pieces and working on nailing classic British styles, browns mostly.  I moved back to Ireland about 5 years ago when the scene was just kicking off and got a job in Kavanaghs where I installed a nice bank of beer engines. We would import casks direct from microbreweries in and around Derby that I was friendly with as there just wasn't enough Irish micros offering proper cask conditioned ale at the time. I actually came across the NHC via Tube, Rossa and Dempsey one night over a few pints in Kavanaghs!
I did a little bit of brewing for The Brown Paper Bag Project and I was busy getting Otterbank set up at the time, and myself and Alex Lawes actually brewed a big dirty stout on Bru's kit- Farami. White Gypsy offered me an assistants position just after the launch of Farami and I stuck it out with Cuilan for about a year and got another few of my own recipes out.
I am now head brewer at YellowBelly in Wexford and still find time to look after a barrel and sour program for my little baby Otterbank!
What is your favourite style of craft beer and what beers would normally be found in your fridge at home?
My favourite style of beer is probably anything wild at the minute; saisons, lambics, kettle sours etc but a well made brown ale will get my heart going at any time!
I actually always have cans of Black's KPA in the fridge, and Sierra Nevadas Otre Vez has pretty much been a main stay for the past few weeks.
Do you ever still brew at home? How do you come up with new recipes?
Not as much as I did before starting in Wexford. I used to brew every single Sunday and most Saturdays, now it's probably only once or twice a month although we've just bought 2 all grain set ups for the staff to use which I'll have to break in for them 🙂
When coming up with new recipes I'll usually look back through my journals and play around with the malt bills and hopping rates. I always fully research a style through books or talking to other brewers.
Recently you've brewed beers with passion fruit, papaya, rosehip and a few different kinds of tea. Any advice for homebrewers looking to go down the experimental beer route?
Just fuckin do it lol.
Have you had any disasters with adding extra ingredients?
I wouldn't say disasters but I've certainly added ingredients that aren't to people's tastes. We released a pale stout a while back which maybe had too much smoked malt but I love it. A good rule of thumb with adding fruits etc post ferment is to add less than you might think will work first, give it a day, taste, and add then add more. O2 pick up is pretty important here so we always bubble CO2 up through the beer during any additions.
Do you have any favourite malt or hop varieties that you feel are overlooked in the brewery world?
The Best Maltz Red X is a personal favourite of mine. It allows us to produce red coloured ales without the addition of any crystals or dark malts. Hops, my favourite is Bramling Cross all day long.
We all know you're a massive advocate of cask conditioned beer. Have you any advice for homebrewers looking to recreate cask beer at home? What differences should a recipe have compared to a keg beer?
Cask is king! I would recommend using pins instead of firkens anyway, much easier to get through 20 litres in a few days, freshness is paramount with cask ale. At home I usually rack into a cask when the gravity is a couple of points from terminal. This ensures a natural secondary ferment in the cask. Leave the cask somewhere warmish for 5 days (20 degrees is a good starting point) then into your fridge until 2 days before serving. If you wanted to pour on a Friday, put the cask into position on Wednesday morning, vent Wednesday night, hard peg when the cask comes into condition and tap Friday morning.
I wouldn't necessarily change a recipe dependant on the serving technique but some styles are definitely more suited to keg, saisons and wheat beers for example really benefit from the extra carbonation which would be hard to carry over to cask.
What kind of hours would you work on an average week? And what would you say is the best part of being a pro brewer?
We generally work 70 hour weeks over 6 days but I would never call it "work" as I absolutely LOVE brewing for a living. The best part is meeting all the different 'beer people' be they brewers, bloggers or drinkers. Oh and the beer festivals are pretty awesome!
What do you see as being the biggest challenge for YellowBelly in the next few years?
We're just in the process of getting our new brew house up and running, we'll be capable of brewing 6000 litres per batch (we currently brew around 500 litres per batch in the brewpub), upscaling the recipes and dialling in brewhouse numbers will  take a few brews I'd say. Our canning line will be here in November from Wild Goose and a bottling line the month after and there just isn't knowledgeable experienced staff out there at the minute.
Any exciting beers or collaborations with other breweries in the pipeline?
We have a few collaborations coming up on the big kit but you'll have to wait for the who's who. Beer wise, we have a couple of Brett stouts aging for Christmas, our brew with iMark is developing nicely in a Bushmills barrel and I've just about finished a separate mini fermentation area for a dedicated sour program.
If you could collaborate with any brewer in the world who would pick and what would you brew?
Easy. Anyone from the Cloudwater team and I'd do anything they asked of me!!!
Any chance you can share a recipe with us? 
I don't think I'll share a recipe as everyone on here is fairly accomplished at that but I can briefly outline our kettle souring method.
So it's pretty much a standard method up to the sparge (you can ensure a gelatinous mash but a straight forward mashing technique works equally as well).
At the commencement of the sparge, we add acidulated malt bit by bit to bring the pH down to around 4.5, this ensures better head formation down the line and discourages off flavour development during the souring process. We don't turn the elements on until the kettle is at our desired volume; we'll double check the pH again and adjust to 4.3-4.5 with either food grade lactic acid or citric acid for our fruity sours.
We then boil for 15 mins to sterilise the wort and scrub any O2 out, cool to 34 degrees, Bubble CO2 up through the bottom to again scrub any O2, pitch our desired lacto culture, we started with the Mega 8 Pro Biotics which we siphoned off to a white wine barrel and we know use this as our house LAB culture and use around 50litres of this each time to sour our wort and top the barrel back up pre boil.
We usually see a pH of around 3.3 after 3 days. We'll then boil and finish as normal, keeping the IBU level below 5. For our fruited sours we ferment as normal then drop the temp to 14 degrees for a day or two before transferring to a pre purged conical with our fruit addition. Sometimes we use whole fruit, chopped up and frozen for a few days or buy in aseptic puree.
Cheers Declan!