Brewer Spotlight: Ciderhead
Interview with Ciderhead
This month in the Brewer Spotlight, we're chatting to NHC member Ciderhead. CH is a true driving force of the NHC, in both a literal and metaphorical sense having been involved in the organisation of BrewCon, National Brewing Championships and the infamous cider juice group buys. Always willing to help out new brewers with advice and a regular on the medals podium at the National Brewing Championships, in our interview, CH talks us through to his medal winning process, cider juice procuring and what it means to be involved in the club.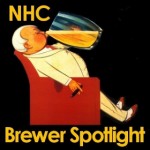 Hi John, can you start by telling us, how did you start home brewing?
In 2009 I collected from a friend's orchard five builders buckets of lovely red apples. I hired a press for €50 and four hours later after much sweat and tears I got about 50 L. I fermented 25 L and the rest of the following couple of days I drank with the kids. The juice was amazing but the cider turned out as dry of Gandhi's sandal. This is the problem with fermenting Granny's ultra sweet eating apples. A couple of months later I went and bought a kit having done one in the late 80s when I was a student in the UK(it was rank due to "what's sanitation"?) and I followed Craigtube whose early videos are amazing for newbies. After about 12 months or so I went straight into all grain with a Coleman 40L Mashtun.
What are your 5 favourite commercial beers?
Galway Hooker and Metalman have a special place in my heart as they were the first real Irish Craft beers I tried.
Presently, Simon Lamberts and Whiplash are two producers whose beer I rate highly and of course are former homebrewers.
I never really got into the whole "100+ IBU IPA" thing even though I do like Pliny and Jaipur.
After a week-end trip to Belgium, I got the Lambic bug badly and after 36 Lambics in all its forms, 3 Fonteinen Oude Geuze is probably where its at for me right now. I like Cantillon too as well but find it not as refined. (I sound like a Lambic Luvvie)
I am really starting to appreciate classic beer styles which tend to be simpler in their process but can be tricky to get right.
Do you have one beer that you have brewed over and over to perfect the recipe and/or process?
Not really, I tend to go at a style do three or four iterations with different yeasts and move on. Munich Helles maybe one. Working on Porters at the moment messing around with Bedford ale yeast. Kolsch is on my to do list.
Tell us about your current brewing equipment set-up?
I have realised in the last 12 months that I'm m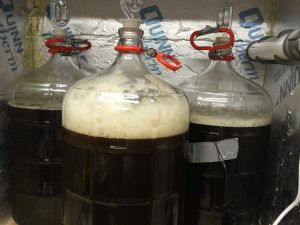 ore interested in equipment and "fettling" than brewing.
I have a Herms setup with 10,60,60,80L Thermopots controlled by a Sestos PID running a 3KW elements in the herms (accurate to 0.1C, I measure it every second brew as it drifts)and HLT and Boiler both have 2×2.7KW 13A kettle elements. Run by 2 chuggers, I only tend to use 1. I whirlpool and pump into a 37L conical. I have 9 Glass carboys and an embarrassing number of kegs, a lot filled with cider.
3 temp controlled fridges, Brewpi on 1, for conditioning flashed STC on another
for fermenting and a conditioning fridge. A basic redneck fermentation chamber, (Kingspan, heater with fan), for ales that can hold 3 carboys. I have way too much gear and not enough space and a new shed will arrive next year.
How often do you brew?
Never often enough and too much! I want to do more versions, but I end out pouring 60+ percent of what I brew as I never get around to drinking it all. I'm a binge brewer it tends to be a lot and then nothing for weeks. Mostly for competitions and pals asking for party beer.
How do you come up with recipes? Do you have a favourite source?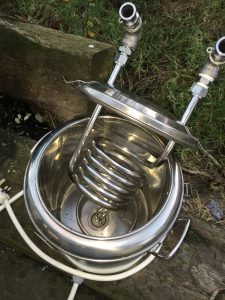 Classic beer styles is my starting point, then Zymurgy who doe features for particular styles and I'll choose one and mix and mash it. I listen to a lot of podcasts and read Beersmith articles which can be simple but solid. I've given up of Beersmith recipe archive as there's some very average stuff there.
The NHC Forum is great for shooting ideas about ingredients or alternatives.
If you won the lottery tomorrow what would be the most ridiculous piece of homebrewing kit you would splash out on?
2 Years ago I would have said to you a 50L Braumeister®, I have been watching with interest the number of old hands across the water buying them and selling them 6 months on. The concept of single vessel automated brewing hardware is amazing but I figured I like pulling all the levers on a steam train and feeling like I'm part of the process than operating the Deadman's handle on the Luas, so not for me. It's just a personal choice and no reflection on any of the commercial products out there. I suppose
since the question was what ridiculous piece of equipment, probably a €2K infrared Fluke Thermometer with monitor and live broadcast feed so I could see hot spots in fermentation!
Every year you coordinate the NHC cider juice group buy.  To anyone who is not aware of it, what's so great about the juice? Is it the key to your winning ciders from the nationals?
I could write 10 pages on this alone, to make perfect juice you should ferment out 4-5 varieties and cross blend them, unfortunately we don't have that option and so it's a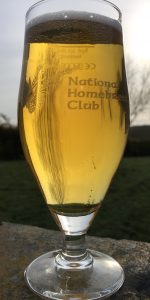 question of securing the best juice formulation we can from the highest quality producer we can. We have used in the past Con Traas and this year we will also go for something from Davy Uprichard. The quality of the base product is key no question and the blends we have had have all been solid. The key is also conditioning and in the last couple of years in kegs the cider I have has turned into something very special, losing the roughness and delicate apple profile coming forward. After this year's collection, in total we will have consumed 10Mt of juice or 17,500 pints.
First couple of years I won medals but others have come to the fore since which is great.
You do a lot in the NHC how did you get involved and why do you do it?
Not so much anymore, due to change in work commitments, but sure yeah I've done loads of group buys and facilitated deliveries for folks, 4 Competitions and 2 Brewcon, blah blah. I say blah blah as it's not a medal, every single member contributes in their own way by just paying a tenner.  I'm more of a facilitator with high standards than a visionary. In any of the things I've been involved with it's never been we can't do that, it's always been how can we?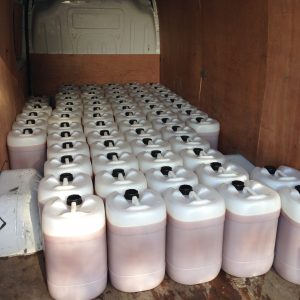 I'm lucky in the sense that working for myself travelling the highways and byways of Ireland has allowed me to meet some really nice people who have amazing beers and I know some of those will become lifelong friends. For the NHC express most have been really generous with a bottle, I now politely decline and just ask people to "pay it forward" as I had a fridge full of some amazing and some really shit ones and I never remembered who gave me what!
More than any other volunteer organisation I've been involved with over the years, I have yet to see the level of volunteer spirit to help achieve a common goal that benefits everybody. I've stopped counting the number of external professionals who have looked at what we do and can't believe we are Amateurs. It's a true example of the potential power of the collective.
I guess I also like meeting people, sharing brewing experiences based on my own experience, in the main all the brewers I have met have been solid decent folk, generously spirited, it must be the alcohol.  I get quite defensive towards the organisation as I get to see the hard work going on behind the scenes, as in every aspect of life you'll always come across an arse every now and again, but even the few that have taken the piss I don't bare any ill feeling towards them and I regularly freak them out by walking right up to them and shaking their hand, life's too short.
I see the forum as a necessary evil as folks can never really express in words what they can do on a face to face, probably also being killed by Whatsapp local groups which is a good thing as to me at the end of the day it's the face to face and a pint on a local level which trumps all.
Do you favour liquid or dry yeasts? Any favourite strains or ones you use most often?
I'm a liquid snob, maybe I just like the starter process, as it's the precursor for knowing that I will be brewing 24-48 Hours later, no question the dry yeasts are coming up the ranks, I like Bry 97® and had some ok results with Mangrove Jacks® variants but I think they have a way to go yet and the Purepitch® from White Labs means you can get it 1 week after commercial production.
I love White Labs Irish Ale as it's amazing to go and quick to finish and I've used it on a few beers for whiskey barrels and its turned out great, but any of the White Labs 800 series have been good apart from Mexican, which funnily enough made me a beer just like Corona!
How important is knowing how to judge beer when it comes to winning medals?
Where do I start, I'm not a qualified BJCP judge and I really respect those that are, even though I've been on three off flavour courses with the BJCP style sheet in front of you it's not hard, they are as descriptive as they can be for something that is qualitative rather than quantitative.
I'm not a fan of the go off score and then we compare scores, I think the whole process should be a shared discussion. I remember my first experience with Tom, a senior BJCP judge from the US, and I was shitting it as we were doing the equivalent to 27-34 (the dog) cats. We walked through the process and he showed me what subtle nuances there were on each one, after the third beer we were within a point of each other and to be honest that's been my experience ever since.
Sometimes I think folks never taste their entered beer, they have lovely descriptive of what they think is in there but judges can't find it and then they get marked down.
Any bad batches or other brewing disasters to speak of?
I'm not afraid to chuck beer, if I won't drink it why should I ask others to?
For the low ABV Capital Brewers comp one year I used fruit concentrate where I spent a fortune on puree and added it late in fermentation. It just tasted bloody awful. It was chucked. I subsequently did a porter with whole Wexford raspberries and it was amazing.
Any advice or tips you'd like to give other homebrewers?
Homebrewing is only as complicated as we make it, O2, water additions, pineapple chunks etc.
Get the basics right around sanitation and fermentation temp to start then move onto the next level.
Enter competitions, and use them as learning tools, judges want to taste good beer, they really are there to help you improve.
Be honest and truthful with yourself, Mammy or your partner are not the people to ask what you beer tastes like, off flavours aren't that tricky to pick up, get involved with your local club and ask for totally honest feedback so that you can learn. I do it all the time.
A good score sheet should point you in the direction as to what they have found wrong and a great sheet should have lots of ideas as to how to fix it.
Finally, any favourite recipe you'd like to share?
This started off as a brew off between Pob (BIAB), Fishjam (Grainfather) and myself (as above), all with the same recipe which is to me what home brewing is all about, sharing technique and having a laugh at the same time with a bit of friendly competition thrown in. All three were good and very drinkable, my version pipped POB at the Nationals 15 to Gold, there was very little in it if I'm being honest, I think it's the melanoiden which gives it a subtle extra dimension, conditioning and fermentation is also key. This current recipe won gold at the Nationals in 16.
Style: Munich Helles
TYPE: All Grain
Taste: (30.0) 1 with Helles
1 with Helles and x 835
Recipe Specifications
————————–
Boil Size: 60.12 l
Post Boil Volume: 53.12 l
Batch Size (fermenter): 46.00 l
Bottling Volume: 45.75 l
Estimated OG: 1.051 SG
Estimated Color: 8.2 EBC
Estimated IBU: 20.1 IBUs
Brewhouse Efficiency: 75.00 %
Est Mash Efficiency: 83.2 %
Boil Time: 60 Minutes
Ingredients:
————
Amt             Name                        Type      #       %/IBU
9.30 kg         Pilsner (2 Row) Ger (3.9 EB Grain     1       93.0 %
0.50 kg         Munich Malt (17.7 EBC)      Grain     2       5.0 %
0.20 kg         Melanoiden Malt (39.4 EBC)  Grain     3       2.0 %
95.00 g         Hallertauer [4.00 %] – Boil Hop       4       20.1 IBUs
1.00 Items      Whirlfloc Tablet (Boil 15.0 Fining    5       –
2.0 pkg         Munich Helles Yeast (White  Yeast     6       –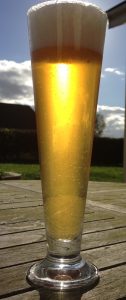 Mash Schedule: Temperature Mash, 1 Step, Light Body
Total Grain Weight: 10.00 kg
—————————-
Name          Description                 Step Tempe Step Time
Saccharificat Add 32.00 l of water at 70. 64.4 C     75 min
Mash Out      Heat to 75.6 C over 10 min  75.6 C     10 min
Sparge: Fly sparge with 38.34 l water at 75.6 C
Notes:
——
Sláinte